Ai Funding News Week Ending - 8/4
Welcome to the first week ending of August.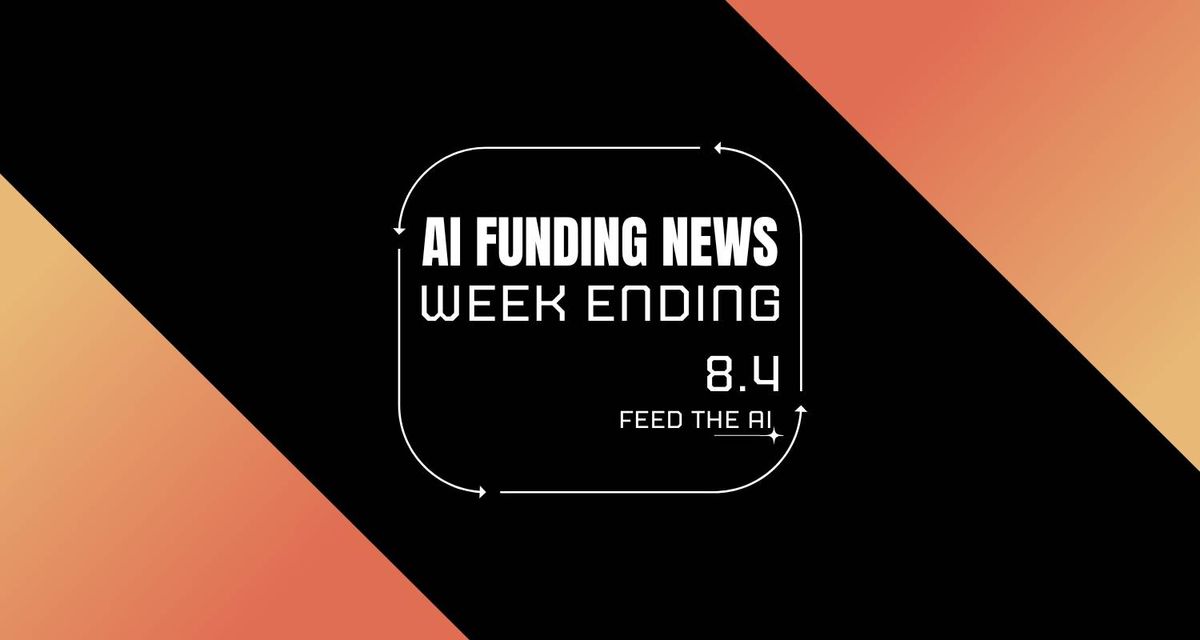 Welcome to the first week ending of August.
From seed to Series A funding, this week's financial landscape has startups and tech giants alike scaling their ambitions and innovations.
We have companies from California to Singapore raising some big money.Whether it's database optimization from DBtune, generative video tools emerging from stealth mode by 1Bstories, or Inworld being valued at $500M!
Catch up on the most exciting funding moves, acquisitions, and financial milestones in the world of Ai:
---
New Product Launch:
Feed the Ai - $200/month
Save time on prospecting and searching for leads:
Hand tailored lead lists
Cross referenced funding and hiring statistics
Intent Data Deep Dives
Target accounts across the verticals you want to sell into
After purchasing we will send a form filled out around:
Your companies information, ideal customer profile, and ideal vertical.  
---
Weekly Funding Newsfeed:
🧪
Testing sending this out on Mondays to see the engagement vs Friday afternoons.
Persist AI Secures $4M in Seed Financing
Woodland, CA - An AI-driven drug formulation company that recently completed YCombinator.
Datasaur Secures $4M in Seed Funding
San Francisco, CA - An NLP platform assisting annotators in training AI algorithms.
Haus Secures $17M in Series A Funding
Mountain View, CA - A growth command center merging causal inference, experimentation, and AI.
Tenstorrent Raises $100M in Strategic Financing
Toronto, Canada - A computing company specialized in building computers for AI applications.
San Francisco, CA - A Character Engine tailored for games and interactive experiences.
Stay Ai Secures $15.1M in Series A Financing
New York, NY - A customer loyalty operating system for Shopify brands.
Stackless Data Closes Seed Funding Round
San Francisco, CA - An AI-empowered comprehensive data solution provider for businesses.
Akkio Secures $15M in Series A Financing
Cambridge, MA - A company providing generative analytics and machine learning solutions to businesses.
Topline Pro Raised $12M in Series A
New York, NY - A generative AI platform assisting home services professionals in managing and scaling their businesses online.
CorralData Closed Seed Funding Round
New York, NY - A full-service AI-powered platform that efficiently turns data into actionable results. Exact funding amount remains undisclosed.
Voia Secures $3M in Pre-Seed Financing
Sunnyvale, CA - A startup leveraging AI technology to empower users in producing Hollywood-level quality videos.
EMEA-APAC
DBtune Secures €2.4M in Seed Financing
Sweden - An AI-driven database optimization startup.
dao Secures €1.5M in Pre-Seed Funding
Berlin, Germany - An AI-powered proptech startup.
1Bstories Raises $5.5M in Funding
Singapore - A generative AI video tool provider that recently emerged from stealth mode.
Acquisitions 🤝
Yuga Labs Set to Acquire Roar Studios
Yuga Labs, creators of Bored Ape Yatch Club, plans to acquire Roar Studios, a company at the crossroads of gaming, social media, the metaverse, and AI.
Oslo, Norway - A digital assessment solution provider has acquired Crossplag, a Kosovo-based tool specialized in originality checking and AI authorship detection.
Startup Fund 💰
SKL.vc Launches Seed & Pre-Seed Program
Munich, Germany - A startup studio concentrating on Generative AI and consumer apps, now accepting applications for the program STARTUP CHANCE.
---
Are you enjoying all this Ai and Robotics funding news?
Share with a friend or coworker: